Contracts and Grants 
Several internal and extramural funding opportunities are available to faculty. Below is a list of some common funding sources.
Proposal Support
Timeline 
At least 3 calendar weeks (14 business days) prior

 

to proposal due date: You must notify the department fiscal manager of intent to submit a proposal. See below for what to include. 
At least 1 calendar week (5 business days) prior

 

to proposal due date: All proposal components aside from the project description/research plan must be finalized and shared with OCGA. The package must also include a

 

draft

 

of the research plan.
At least 2 business days

 

prior

 

to the proposal due date: The final draft of the research plan must be shared with OCGA.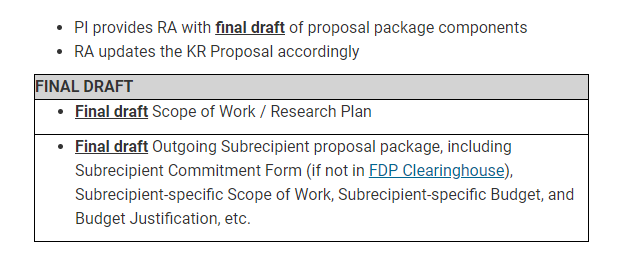 8a.m. PST on the due date:

 

A final version of the research plan may be provided. This ability was added in an effort to give PI's as much time as possible to make edits to the research portion. However, you should know that if you elect to submit a final version at this stage, it may not have any effect on the rest of the components including budget, personnel, etc., and it will not be reviewed.
Include the following information with your notification:
Project title
Project start & end dates
Funding agency & contact person
Link to Request for Proposal (or attach PDF)
Co-PI name and contact info (if applicable)
Human subjects protocol number (if applicable)
Budget items

Summer salary: # of ninths
GSRs: # of months and % time
Supplies, equipment, and travel estimates