Contact Us
Department Overview
The UCSD Department of Ethnic Studies emphasizes comparative, analytic, and relational study of ethnicity and race in the United States. Our fields of emphasis include intercultural communication and conflict, population histories of America, ethnicity and identity, immigration and assimilation, ethnic politics and social movements, race and racism, urban ethnicity, gender and ethnicity, intellectual and cultural histories of ethnic groups, cultural pluralism, national integration, language and ethnic life, and mass media representations of ethnic identity.
Contact Information
Visit our Administration page for information on how to contact specific staff members. 
The Department of Ethnic Studies is located in the Social Sciences building on the Eleanor Roosevelt Campus of UCSD. Adjacent to the department are the San Diego Supercomputer (SDSC), RIMAC Athletic Facility, The Center for Latin American Studies, and The Graduate School of International Relations and Pacific Studies (IR/PS).
Mailing Address

Department of Ethnic Studies
University of California, San Diego
9500 Gilman Drive, M/C - 0522
La Jolla, CA 92093

Office Location

Social Science Building
2nd Floor, Suite 201
Eleanor Roosevelt Campus

Phone, Fax, and Email

Phone: (858) 534-3276
Fax: (858) 534-8194

Office Hours

Monday thru Friday 8 am to 12 pm and 1 pm to 4:30 pm

The office is closed from 12 - 1 pm daily for lunch
Map
The Deparment of Ethnic Studies is located in the Social Sciences Building, Suite 201 (2nd floor). Click on the map below for an interactive map of the UCSD campus.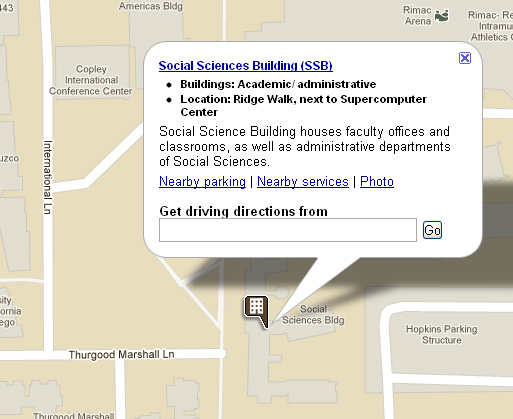 Driving Instructions
Take either Genesee Ave or La Jolla Village Dr. west to N. Torrey Pines Rd. Pangea Dr. is located between these two roads. Turn on Pangea Dr. and park in structure on left. Walk up Pangea Dr. to the end of the road. The building at the end of the road is the Social Sciences Building. The Department of Ethnic Studies is located in room 201. 
Parking Instructions
The best lot to park in is the Pangea Parking Structure or the Hopkins Parking Structure.