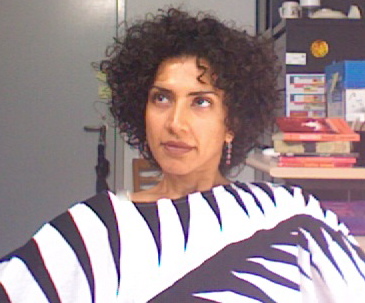 Roshanak Kheshti
Assistant Professor
Social Sciences Bldg. Room 231
Phone: 858.534.2136
Fax: 858.534.8194
E-mail: rkheshti@ucsd.edu
Office Hours
Fall 2011: On leave

Winter 2012: TBA

Spring 2012: TBA
2011-12 Courses
Fall 2011
On leave

Winter 2012
ETHN 87 - Freshman Seminar: Listening to the World (Th 10:00a - 12:50p, SSB 253)
ETHN 190 - Research Methods: Studying Racial and Ethnic Communities (TuTh 2:00p - 3:20p, PETER 104)

ETHN 255- Tu 10:00a-12:50p SSB 103

Spring 2012
TBA
Education
Roshanak Kheshti received her Ph.D. in anthropology and women's studies from the University of California, Santa Cruz in 2005 and is currently Assistant Professor of Ethnic Studies at UC San Diego. 
Research Interests
Her research centers around the consumption of culture through sound and film, with a focus on world music, race and gender, in addition to queer theory and sexuality in Iran.
Publications
"Cross-dressing and Gender (Tres)Passing: The Transgender Move as a Site of Agential Potential in the New Iranian Cinema" in 
Hypatia: A Journal of Feminist Philosophy 24(3), 158-177
"Acoustigraphy: Soundscape as Ethnographic Field" in  Anthropology News 50(5), pp. 15, 19
"Musical Miscegenation and the Logic of Rock and Roll: Homosocial Desire and Racial Productivity" in "A Paler Shade of White."  American Quarterly 60(4), 1037-1055
"Inversion, Signifiance and the Loss of the Self in Sound" in  Parallax
14(2): 68-77.
Additional Information
She has also published numerous musical recordings both as a former member of bay area-based experimental rock band The Ebb and Flow and independently as composer and performer for an independent film score.